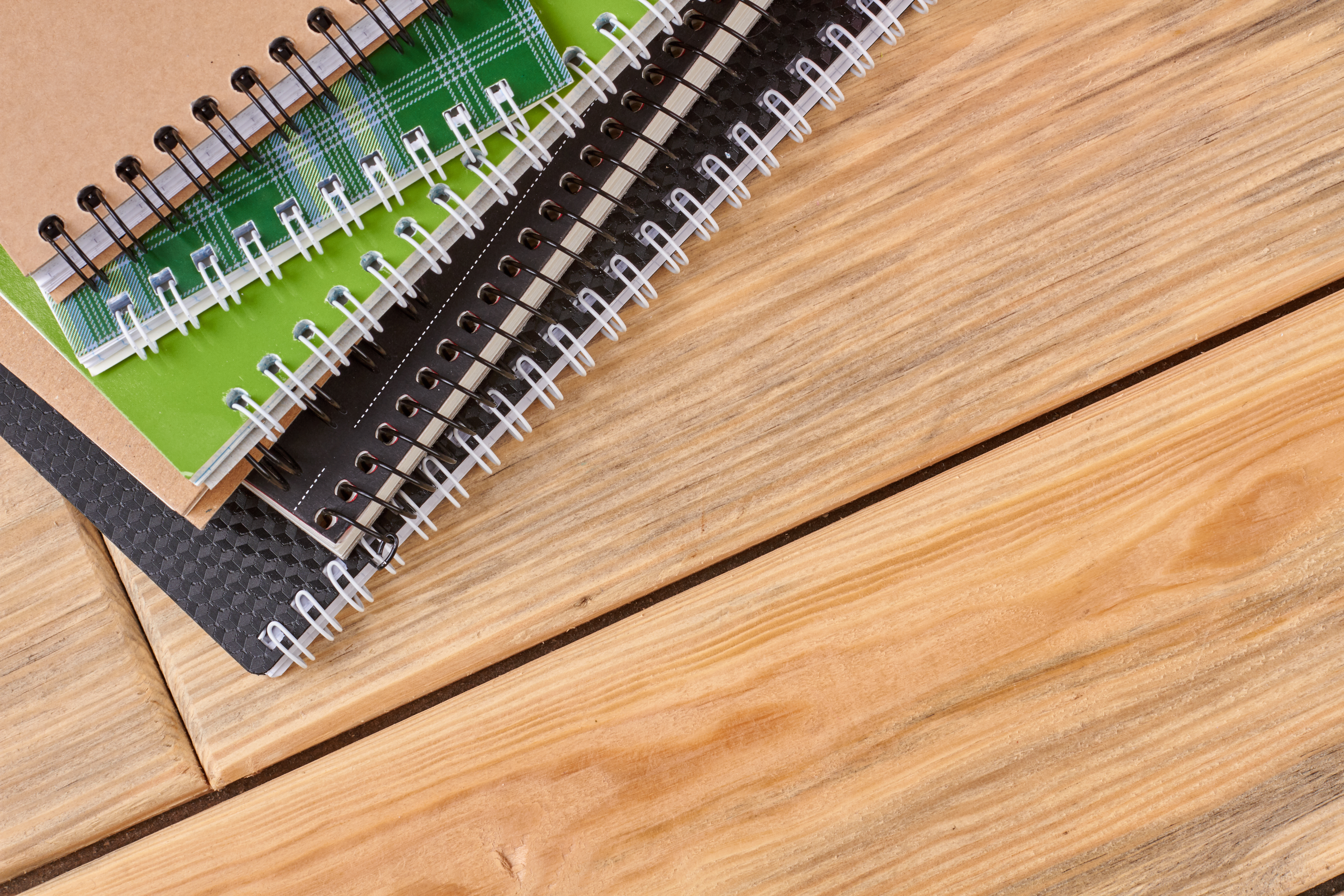 Many businesses use brochures and booklets as part of their advertising materials to market their products or services and to publish reports and manuals. Wire bound booklet printing is one of the most common forms of producing brochures – there are different methods to bind and finish these documents, but wire bound printing lends itself specifically to certain forms of booklet. Here are some aspects of wire bound booklets for you to consider:
What Is Wire Bound Booklet Binding 
Often referred to as coil or spiral binding, wire binding is a common method for joining the pages and cover of a printed bound booklet – this is achieved by feeding a metal spire or coil through pre-punched holes near the edges of the individual pages to form a spine. The coils used – usually metal or a durable plastic – firmly join the pages to each other and the cover, whilst allowing the pages to open easily and freely. Whilst other binding methods for soft cover documents are often chosen – saddle-stitching and perfect binding for example – wire binding offers some advantages that the other binding methods don't have. It is a commonly used book binding style used for many different document formats.
What Documents to Consider for Spiral Bound Book Printing 
Wire binding typically works best for documents or booklets of between 4 and 180 leaves – so, if printed double-sided, effectively 360 pages. These booklets and documents can be opened 360 degrees, allowing them to fold flat and therefore making them ideal to use for reference material and subject matters such as recipes, manuals, and reports. This is because there are no solid spines nor folds in wire bound booklet printing – this wire binding format is also useful for wall calendars and planners as they can lie flat against the vertical wall surface. Wire bound booklets are also effective for presentation documents because they can lie open on a desk for easy access and reference.
Sizes 
Wire bound booklets are available in different formats and sizes from a small pocket guide to a large travel atlas dimension. The wires – or coils – are available in many diameter sizes so can accommodate books or documents of varying thicknesses. Wire bound booklets can be printed from A5 size through to A3, which is usually the largest required size. The larger A3 sized booklets are bound on the short edge making them ideal portfolios and creative presentation booklets or documents.
Relevant Materials for Wire Binding 
Different booklets or documents will require different quality materials depending upon their use and target audience – there are a range of different quality and weight paper options appropriate for wire booklet printing and binding. Silk paper, with a smooth feel and sheen appearance will be ideal for some booklets, whilst gloss paper with its' shiny, smooth finish, highlighting any colour content, is also available and suitable for wire bound booklet printing and finishing. If you are concerned about the environmental impact of your printed documents, as many people are nowadays, recyclable paper options are also available. The plastic coils themselves used for wire book binding are strong and hardy – they resist distortion and therefore hold their shape well.
Covers 
As with any printed booklet, you will want to consider the front and back covers – wire bound book printing offers different options when deciding on the cover of your choice for your book or document. The cover is often printed on thicker paper than the internal pages of your document, giving the book more protection and durability. The coils themselves are available in many assorted colours so can complement any book cover.
Benefits of Wire Bound Booklet Printing 
Another important aspect to consider when deciding upon your printing and binding format is how quickly you can get your document printed, bound and available to you – wire bound book printing offers a quick production turnaround option, whilst it is a preferred option for short print production runs than other book printing and binding methods.
https://dl-graphics.com/creative/wp-content/uploads/2023/10/spiral-notebooks-on-wooden-table-with-copy-space-2022-08-15-17-35-10-utc.jpg
3456
5184
support
https://dl-graphics.com/creative/wp-content/uploads/2016/09/3d_dl.png
support
2023-10-30 13:15:14
2023-11-20 13:14:34
What Is Wire Bound Booklet Printing?