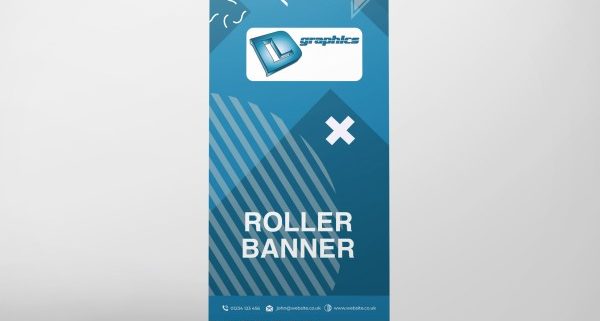 Many businesses attend trade shows and exhibitions as part of their marketing and advertising campaigns – these are ideal opportunities to showcase your products and services and to reinforce your corporate brand name and image. Your exhibition stand will likely have many individual features that are designed to draw attention to your display and attract new business – one of the most effective advertising tools you can include on your exhibition stand is a roller banner. Here are some reasons why you should incorporate roller banner printing as an important part of your preparation for your next business trade show, conference, or exhibition:
Advantages
Roller banners can help you create a real presence in the room – there will be many companies exhibiting, so the competition for attention in a limited space is fierce – pop up and roller banners will create a welcoming environment for potential customers. A well-designed banner will automatically catch the eye of exhibition attendees and garner immediate attention and attraction to your stand. Displaying the important information clearly and distinctly informs your visitors of what you offer and will encourage and invite further questions and interest from them.  
Design
Whichever format of roller banner you choose, you should ensure that you make the most of the space with an appropriate design. Utilise colour – distinctive colour can catch the eye and draw attention – but don't use too many as it can be confusing on the eye and distort focus. Choose fonts that are familiar to most people when considering how to display your text – keep text to a minimum and display only the essential message – and ensure that your message is easy to read both close-up and from a distance. Using images and graphics will portray a more powerful message than any wording, so ensure you use high-quality images. It is important to remember that any design for your roller banner should incorporate and highlight your company brand, colours, and image – the aim is to reinforce your corporate brand image to all who view your banner and visit your exhibition stand. Ensure your company logo is clearly visible at the top of your banner, and have your main message positioned at eye-level so your audience can quickly see it and engage. Ensure also, that your banner displays your important contact details for potential customers or clients to be able to easily follow-up any interest or queries they may have about your company and services.
Placement
Consider where your banner will be placed – think about where on your exhibition stand it will be most effective and visible – try to keep it clear of any other furniture or items on the stand so as not to obscure the message your banner is relaying.
Professional Image
One of the benefits of roller banner printing is that a quality roller banner will present your business in a truly professional image – they create a look and feel that can have a real impact and impression at an exhibition. Pop up roller banners are easy to set-up and deconstruct, but can look smart, expensive, and professional. Investing in a high-quality roller banner will more than pay dividends as it may be used repeatedly at many different events and always retain that high-end, professional appearance that emits a positive impression of your business.
If you are looking for a quality online print shop in London, then consult with DL Graphics – their expert and knowledgeable staff can advise you on all manner of professional business marketing and advertising printing and can supply the highest quality roller banners in London.
https://dl-graphics.com/creative/wp-content/uploads/2023/07/Roller-banner.jpg
600
600
DL Graphics
https://dl-graphics.com/creative/wp-content/uploads/2016/09/3d_dl.png
DL Graphics
2023-07-31 14:30:18
2023-11-20 13:15:02
Why Roller Banners Are Great Accessories For An Exhibition